Chef Nick Whitehouse has cooked for royals and now cooks on Australian TV (Studio 10) with SmartVide.
Chef Nick Whitehouse has cooked for  the likes of Lady Diana and Prince Charles. Now, he collaborates with Sammic in Australia and already owns 3 SmartVide 8 Plus immersion circulators in his restaurants. On 13th June he was on Studio 10, participating in a morning talk show and made with SmartVide a dish fit for a queen. Watch it!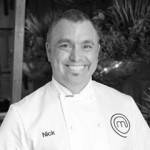 Chef Whitehouse has had a prestigious career working in Europe, Asia and Australia as well as appearing on Channel Ten's Masterchef 'The Professionals'. Nick's experience in Australia includes Koi restaurant (Woolwich), Wildfire (Circular Quay) and Flying Fish (Pyrmont). In England he worked for both one and two Michelin Star restaurants for over a decade. Nick's culinary style uses traditional and modern cooking techniques and understanding of local ingredients to create modern timeless dishes in line with the seasons.