The wild boar is an animal we have always been able to enjoy on our table.
When working with vacuums, the aromas and flavours of the ingredients that we use are maintained with a greater intensity and, in addition, cooking at a low temperature stops the meat from drying out. Thus, a unique texture is achieved. Similarly, when vacuum packaging we can prolong the conservation time of this product.
For the wild boar
250g wild boar
1 onion
1 leek
1/2 stick celery
1 clove
1 branch thyme
50g pork lard
300ml red wine
1 carrot
1 garlic clove
50ml brandy
1/2 stick cinnamon
1 pinch parsley
salt, pepper and oil
Put all the ingredients for the wild boar recipe in a vacuum bag at 100% and let it marinade for 48h. Open and set aside.
Season the ingredients. Separate the wild boar from the vegetables, roll the wild boar in flour and fry alone. Put it back into a bag at 100% and cook at 72 degrees for 24h.
Drain the broth and the wild boar and set aside. Use the broth to bind and dispose of the rest.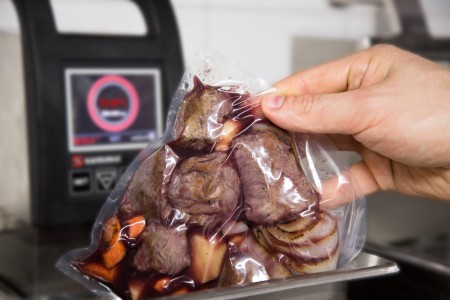 For the potatoes
1 potato
30g chocolate
30g toasted almonds
3 asparagus shoots
1 garlic clove
salt, pepper, oil
Roast the potato at 180 degrees for 1h 15 and cut into eighths. Sear in a frying pan with a little oil.
To finish
Scald the asparagus for 2 minutes and sauté.
Place the wild boar, the potatoes and the vegetables in a bowl, and finish by drizzling with the sauce.