Here we have one of the delicacies of our cuisine: the partridge. The partridge is a bird found throughout the peninsula that, in addition, is not migratory. Therefore, we are in luck; it is a delicacy we can enjoy all year round.
This vacuum-cooked recipe preserves the juiciness, the texture and the flavour of the partridge with very little effort, something that traditionally only our best chefs are able to do.
Ingredients:
1 partridge (300g)
150ml white wine
200g onion
1 potato
2 garlic cloves
1 bay leaf
1 carrot
1 artichoke
salt, pepper and oil
Instructions:
Remove the thighs and the breasts from the partridge. Brown the partridge carcass with the sliced carrot, an eighth of the onion, the garlic and the bay leaf. Season and brown the breasts and the thighs, only on one side. Clean and quarter the artichoke. Place all of the ingredients except the potato in a vacuum bag at 100% and cook for 2h at 72 degrees.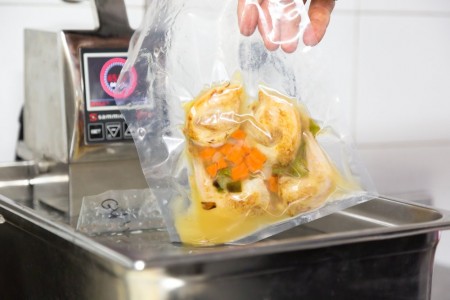 Cut the potato into 2 x 2 cm cubes and cook for 40 minutes, drain and add oil, salt and pepper. Set aside.
Place the mashed potatoes as the base, drain the partridge setting aside the juice for texturizing and dispose of the carcass. To finish, alternate the vegetables with the partridge and drizzle with the sauce.