Ingredients
Flavoured cherry tomatoes:
70 g of different coloured cherry tomatoes
25 g of olive oil
5 g basil leaves
5 g of fresh oregano
150 g classic vinaigrette
Roasted peppers:
2 piquillo peppers (50 g)
1 clove of garlic (5 g)
1 sprig of rosemary (10 g)
100 g of sunflower oil
Sweet-and-sour sauce:
110 g of vinegar
100 g of sugar
600 g of cider
250 g of grape juice
Scallops:
2 scallops (40 g each and 3 cm thick)
20 g of olive oil
Preparation
To prepare this scallop recipe, start by preparing the flavoured tomatoes. For this, blanch and peel the cherry tomatoes. Then, insert the tomatoes together with the vinaigrette in a vacuum bag and pack at 100%. Put to one side.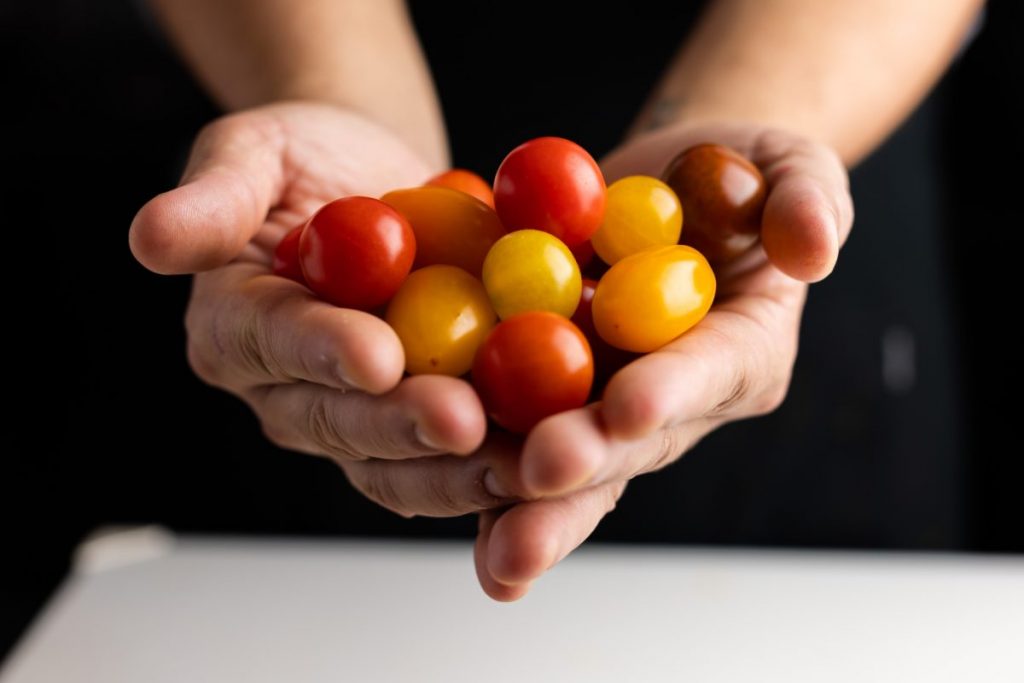 Then prepare the peppers. Put the peppers together with a clove of garlic, the rosemary and sunflower oil in a vacuum bag. Pack at 100%. Then, cook the bag in the SmartVide sous-vide cooker for 4 minutes at 80 ºC. Put these to one side as well.
For the sweet-and-sour sauce, make a dark caramel with the sugar and deglaze with the vinegar. Then, add the cider together with the grape juice and reduce by up to one third. Allow to cool.
Now for the scallops, pack with olive oil. Once packed, cook in the cooker for 12 minutes at 70 °C.
To complete, blowtorch the piquillo peppers, brown the scallops on the grill with salt, sauté with the sweet-and-sour sauce, strain the cherry tomatoes and arrange them on the plate. Garnish with basil leaves.
Thanks to the vacuum in this scallop recipe, the vegetable fusion and impregnation with the vinegrette is simpler.

Notes from the chef