For the Cuttlefish
2 fresh medium cuttlefish
2 onions
500ml of 0.4 olive oil
salt
Cream of sopako bread
2 onions
¼ sopako bread
1l meat stock
Stew "a lo pelayo" (cooked with onions)
1 scallion
1 Italian green pepper
Cuttlefish tentacles
150ml white wine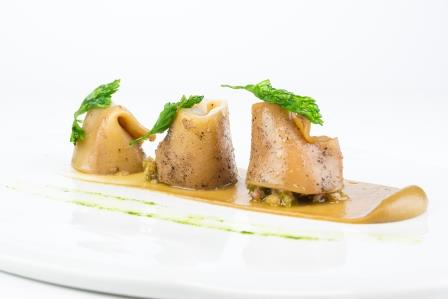 Preparation:
First, chop the onions into a mirepoix (small squares of approximately 1cm), toast them in the oven until they begin to burn and then blend them with the 0.4 oil.
Afterwards, clean the cuttlefish, add some salt and vacuum them to 98% along with the oil from the onions. Cook the cuttlefish in the SmartVide for 12 minutes at 65ºC (149ºF).
To make the stew, brunoise the scallion and the green pepper. Poach them lightly in a pan and add the chopped tentacles. Leave them to poach on a low heat and add the white wine to deglaze. To complete the cooking, wait until all of the wine has evaporated.
For the cream, chop two onions and poach them in a pan with a little oil. Chop the sopako bread and add it, afterwards add the meat stock. Cook for 15 minutes on a low heat, blend in the mixing glass and put aside.
For plating up, first position the cream of sopako bread using a spatula, followed by the stew and, to finish, the chopped cuttlefish.
Advantages:
We did the cuttlefish confit by steaming for three reasons:
Firstly, because it allows us to control the temperature of the confit with the highest precision possible.
Secondly, because it enables us to save oil. This way, instead of doing the confit in a pan full of oil, we only require a little oil per bag.
And, thirdly, because the vacuum method allows the cuttlefish to become impregnated with the taste of the oil from the onions.