By using the vacuum for this recipe we manage to achieve more flavour and taste from the infusions. Also, as the temperature remains uniform and constant, we avoid the risk of the mixture overheating or curdling.
Cam sanh mousse
1 vanilla pod
475g of cream 35%mg
115g of yolk
50g of sugar
1 sheet of gelatine
Peel of cam sanh (a Vietnamese citrus fruit)
Mango and chilly marmalade
2 ripe mangoes
1 small, fresh chilli
50g of sugar
10 ml of sherry vinegar
1 sheet of gelatine
Caramelised puffed rice
100g of puffed rice
20g of icing sugar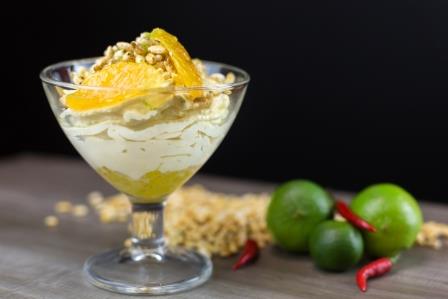 Preparation
To make the cam sanh mousse, first mix all of the ingredients in a bowl and then transfer the mixture to a vacuum bag.
Then, place the vacuum bag into the SmartVide and cook it for 25 minutes at 82ºC (179,6ºF).
Once the 25 minutes are up, strain the mixture, blend it and cool it in the siphon.
Finally, load the siphon and set aside.
To make the marmalade, start by peeling and cutting the mango into cubes of 0.5 cm. Make a syrup with the water and the sugar.
Then, put the syrup into a vacuum bag along with the mango and the chilli which has been cut into strips. Finally, cook the ensemble in the SmartVide for 40 minutes at 82ºC (179,6ºF). Afterwards, let it cool and put it aside.
For the caramelised puffed rice, mix the rice with the icing sugar, stirring it so that it is well-mixed. Then, put the mixture into a pan and caramelise it until it takes on a toasted colour.
To finish up, cool it down while stirring so that it doesn't stick.