Ingredients:
5 fresh jalapeño peppers
30 g carrots
8 g garlic
1 g of black pepper
1 g thyme
1 g oregano
3 g salt
60 g cider vinegar
10 g olive oil
50 g brown sugar
2 chicken breasts
100 g green pepper
100 g red pepper
50 g sweetcorn
Corn tortilla wraps
Lemons or limes to season and garnish
Preparation:
Start by placing the jalapeños, chopped carrots, garlic, pepper, thyme, oregano, salt, vinegar, oil and brown sugar into a large canning jar. Close the lid well and cook in the SmartVide at 80 ºC for an hour and a half.
Meanwhile, season the chicken breasts well with salt and pepper and place them in a vacuum bag. Cook them for 50 minutes at 65ºC in the SmartVide.
In the meantime, cut the red and green peppers into strips and sauté them. When they are done, add the sweetcorn and set aside.
Heat the tortillas and fill them with the sautéed peppers, some slices of chicken breast and the pickled jalapeños cut into slices. Serve with lemon so that people can season according to their taste.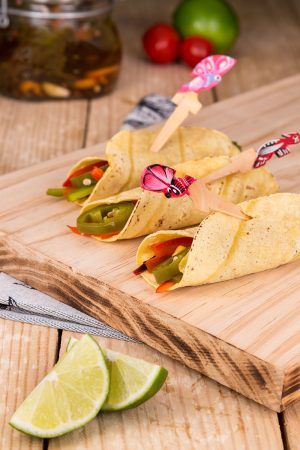 With the vacuum cooking technique we can assure that the chicken breast, a meat which easily becomes dry, comes out juicy and perfectly cooked every time. Also, by cooking the marinade in the glass jar, the vacuum will be created by the cooking process allowing it to be kept in the storage chamber for much longer.