Ingredients:
800g pasteurized milk
200g cream
40g natural yogurt
80g basil
200g cherry tomatoes
5g jalapeño peppers
80g brown sugar
10g olive oil
5g basil
15g cranberry
5g of sunflower seeds
Preparation:
First, put the milk, the cream and the basil into a vacuum bag and cook in the SmartVide at 55ºC for 30 minutes, allowing the milk to infuse with the basil. Once this time has elapsed, remove the bag and leave it to cool to 35ºC. When the mixture has reached 35ºC, strain the milk and add the yogurt. Then, put the mixture into the jars and close them tightly so that no water can get into them. Place the jars into the SmartVide for 3 hours at 43ºC.
While the jars are fermenting (the bacteria in the yogurt is taking effect), we'll make the tomato marmalade. Chop up the tomatoes and put them into a vacuum bag with the sugar, the oil and the jalapeño peppers. Cook everything in the SmartVide for two and a half hours at 65ºC.
When the yogurts are ready, cool them in the blast chiller. And when the marmalade is cooked, put it through a strainer to remove the excess liquid. Then, blend the mixture to obtain the tomato marmalade. Sauté some basil leaves in a frying pan along with some cranberries and sunflower seeds.
Serve the yogurts with the tomato marmalade, the basil leaves, the cranberries and the sunflower seeds on top.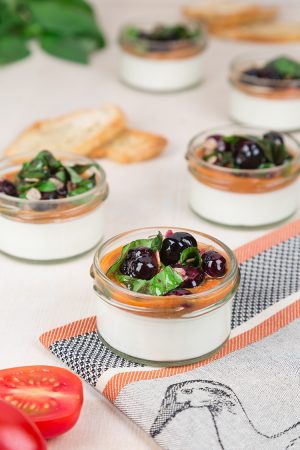 This controlled fermentation technique enables us to achieve creamy flavours and textures. Also, the volatile and delicate aromas, such as the basil, will remain in the recipe forever and will not be lost.