Our Corporate Chef, Enrique Fleischmann, and his co-worker of Fleischmann's Cooking Group, chef Jesús Fernández Mena, accompanied by the Sammic Export Director Alfonso Acha, have traveled to Ukraine to give a masterclass of sous-vide cooking. Organized by our distributor Profitex and in partnership with Fontegro,  yesterday, our colleagues gave an all-day workshop at the Gastro Hub (demo Kitchen that it is located in Kiev).
With more than 40 chefs participants in the classroom and many others connected via streaming, our chef presented a very extensive program on sous-vide cooking. Specifically, the participants had the opportunity to learn about the origins of the technique, the systems used, their applications, the future of it and much more. In addition, they saw our machines working on site, because, Enrique gave a very varied tasting made with the 2 SmartVides 8+ and the SU-310 packing machine that they had on the stage. He prepared his specialties: octopus, pastrami, dehydrated mushrooms, pork knuckle, chocolate stones …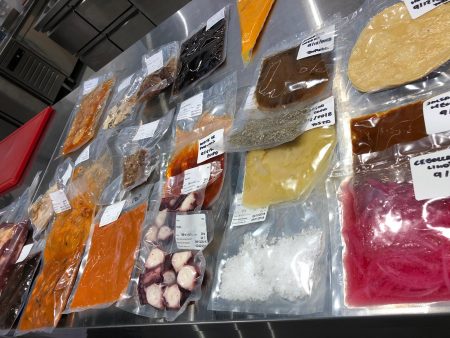 It was a very successful event where the participants took part in. At the end of the program they could ask our chef questions, and they took the opportunity to ask about the new SmartVideTrack system that will be released in 2019. In addition, once the masterclass was over, all the participants received a certificate from Fontegro signed by Chef Enrique and, those who wanted to, had the opportunity to chat and to be photographed with the 2 chefs.
All our colleagues who have been in Kiev have been delighted with the event, both because of the interest shown by the participants and the feedback they have received. So, through these lines we want to thank the organizers for giving us this opportunity and to all the participants for their great work.
See you soon!