Ingredients:
400 g (14.1 oz) rack of lamb
200 g (7 oz) baby carrots
30 g (1 oz) ginger
50 g (1.8 oz) butter
1 sprig rosemary
1 clove garlic
Salt
Pepper
Oil
Preparation:
First, clean the rack of lamb by removing the backbone and the meat between the bones. Season the meat with salt and pepper and place it in a vacuum bag with one clove of garlic, the rosemary, and a dash of oil. Next, cook in the SmartVide for one hour at 57ºC (135ºF).
Then, peel the carrots and remove the ends. Place them in a vacuum bag with the butter and ginger. Cook everything in the SmartVide for 25 minutes at 86ºC (187ºF).
Once the meat is cooked, dry it well and brown it with the garlic and rosemary.
Finally, glaze the carrots with the juice from the bag.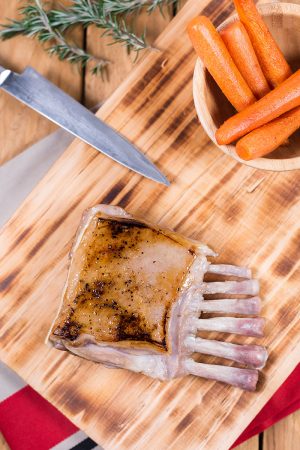 In this recipe, thanks to the low temperature, the meat is cooked to perfection and the carrots have a great texture with all the notes of the spices.