Ingredients:
1,000g (2.2 lbs) jamón ibérico bone (ham bone)
150g (5.3 oz) onion
100g (3.5 oz) carrots
100g (3.5 oz) shallots
1.500g (1.6 qt) water
80g (2.8 oz) borage
15g (0.5 oz) sherry vinegar
40g (1.4 oz) white bread
20g (0.7 oz) butter
50g (1.8 oz) duck liver mousse
2 sprigs fresh rosemary
Preparation:
First, cut the onion, carrot, and shallot and place them in a pan to brown. Set them on a tray and place them in the refrigerator to cool.
Put all the vegetables together with the ham bone in a bag, add a sprig of rosemary and the water, and seal them at 97% vacuum. Cook everything at 80ºC (175ºF) in the SmartVide for 10 hours.
After 10 hours, when everything is cooked, hold the bag from the top and make a small cut in one of the lower corners so that only the consommé comes out. The fat and impurities will remain at the top. In order to ensure that the consommé is as clean as possible, filter it.
Next, wash the borage and remove all external fibers. Cut it into diamond shapes and put them into a bag with the vinegar, 50 g (1.8 oz) of consommé, and one sprig of rosemary. Seal it at 100% and cook it in the SmartVide at 80ºC (175ºF) for 30 minutes.
Finally, cut the bread into cubes and brown it in a pan with butter. Also cut the mousse into cubes.
To serve, first place the borage at the bottom of a soup bowl, then the bread and the mousse. Add the consommé after the bowl has been set on the table.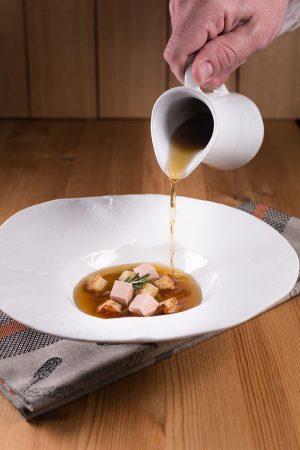 Thanks to the use of sous-vide in this recipe, we ensure that consommé, a difficult dish to prepare, will always be clear, as it never reaches boiling. It also preserves all of the volatile aromas within the stock.
This is a very practical way to prepare consommé and store it in the refrigerator, ready to be used when necessary.