Ingredients:
2 eggs
100g of Iberian ham
30g of red wine
One sprig of dill
80g of wheat flour
One egg for beating
100g of breadcrumbs
Salt and pepper
500g of ripe tomatoes
20g of sherry vinegar
20g of olive oil
One litre of sunflower oil for frying
Preparation:
First, put the ham with the wine and the dill to marinate in a vacuum bag for one hour. Meanwhile, in a pan of boiling water, cook two eggs for 10 minutes.
Afterwards, fillet and season the pork and place the pieces onto a piece of cling film. Put the marinated and dried ham on top of the fillets and add the chopped boiled egg. Next, roll up the fillets, with the filling on top, with the help of the cling film, make sure it is tight and make some cuts with a paring knife to remove the air from inside.
Pack the meat with the filling at 100% vacuum and put it into the SmartVide for 25 minutes at 70ºC (158ºF).
While the meat is cooking, prepare the garnish. Cut the tomatoes in half and place them onto a baking tray. Season them and drizzle them with olive oil and vinegar. Put the baking tray in the Sammic grill or salamander and cook until the tomatoes are golden.
Now all that remains to do is to remove the meat from the bag and cover it in flour, then egg, then breadcrumbs to bread it. Once it is breaded, fry it in hot oil until the batter is golden.
Finally, cut the flamenquines and serve them together with the baked tomatoes.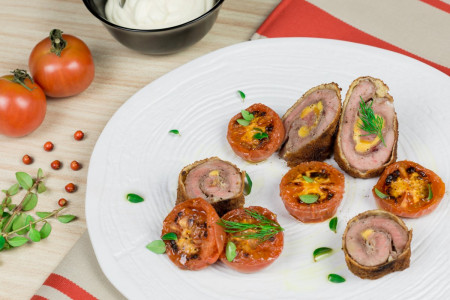 For this recipe, both the vacuum and cooking with the SmartVide provides several advantages. On one hand, when marinating the ham with the wine and the dill in the vacuum, the marinating time is less and the quantity of wine is minimal. On the other hand, by cooking the meat this way we can always be assured that it will turn out juicy. Also, thanks to these techniques, we can cook them and immediately reduce the temperature in the bag and keep them in the chamber until we want to use them. Then simply bread them and fry them.