Ingredients for the shank:
1kg of beef shank
500g of water
25g of salt
80g of butter
Ingredients for the vegetables and the purée:
6 Brussel sprouts
1 carrot
12 small onions
2 "Mona Lisa" potatoes
Salt
Olive oil
Black pepper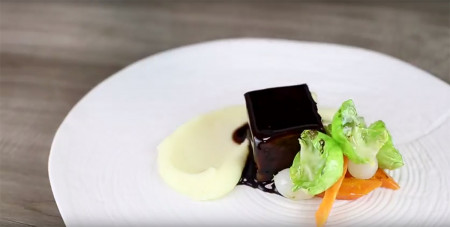 Preparation:
First, prepare a brine by mixing the water and the salt. Then, package the shank along with the marinade for three hours. This way, the vacuum will accelerate the salting process. Once the three hours have passed, dry the meat well and vacuum pack it with the butter. Cook in the SmartVide for 16 hours at 80ºC (176ºF). This way it will have a smooth texture and will conserve the aromas and tastes of the product.
Once the necessary time has passed, cool it quickly and divide it into portions. Reduce the juices from the bag in a pan and, along with the butter and the collagen, make a thick sauce. This sauce will help to heat up the portions whilst we reapply it carefully.
For the purée, cook the potatoes in water and salt. Make the purée with the help of a strainer, adding salt, pepper and olive oil.
Cut the vegetables to your taste and sauté them before serving.
Serve the glazed beef shank with the purée and the sautéed vegetables.