Ingredients:
2 oranges
250g (8 oz) frozen red berries
100g (5 oz) sugar
 150g (3 oz) Greek yogurt
20g (7 oz) thickening agent
75g (6 oz) cookies
Preparation:
For the "toasted" yogurt, put 125 g (4.4 oz) of yogurt into a bag and cook it in the sous-vide cooker for 50 minutes at 65ºC (149ºF ) until the yogurt acquires a soft beige color. Next, strain it through a fine mesh strainer until a cheese or pale paste is obtained. Blend with the rest of the Greek yogurt and set aside.
For the red berry syrup, mix the frozen red berries with the sugar and cook them in the SmartVide at 65ºC (149ºF) for 50 minutes. Strain and let cool.
For the blood orange, peel the oranges and slice. Place them in a vacuum bag with a little syrup and seal at 98% for 30 minutes to imbue them with the syrup. Thicken the rest of the syrup and set aside.
Crush the cookies.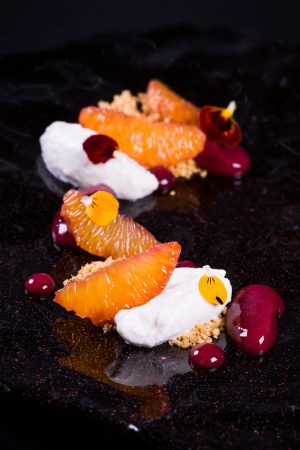 Thanks to cooking at a low temperature, the yogurt obtains toasted notes like walnut and toffee. The syrup extracts all the flavor from the fruit without agitation, since it does not boil.