Ingredients:
300g (10.6 oz) fresh razor clams
50g (1.8 oz) salt
1,000g (1 qt) cold water
For the citrus sauce:
80g (2.7 oz) razor clam water
One lime
Zest of that lime
10g (0.35 oz) jalapeño sauce
Salt
For the pesto:
100g (3.5 oz) basil
50g (1.75 oz) parmesan cheese
50g (1.75 oz) walnuts
1 clove garlic
50g (1.75 oz) oil
50g1 (.7 oz) water
Salt
Preparation:
To begin, dissolve 50 g (1.75 oz) of salt into one quart of water and set the razor claims inside so that they release any dirt they may have. The razor clams will be packed when they are cooked.
Meanwhile, prepare the pesto. First, place the garlic, walnuts, and cheese cut into small cubes in an immersion blender cup. Next, add half the oil and blend until homogenous. Add the basil with the cold water and continue processing until all the oil has been added so that it can be emulsified. Set aside.
Drain the razor clams well and seal at 100% vacuum. Cook in the SmartVide at 65ºC  (150ºF) for 7 minutes.
After cooking, strain the water left over after cooking the razor clams. Take 80 g (2.7 oz) and mix it with the lime juice and zest. Next, add the jalapeño sauce and mix everything together. In this case, we thickened the sauce with a bit of corn starch, but xanthan gum can also be used.
To finish, remove the part of the shell that separates it from the meat and set them on a plate; cover with the citrus sauce and then pour on a bit of pesto. Top it off with a decorative flour, lime zest, and olive oil.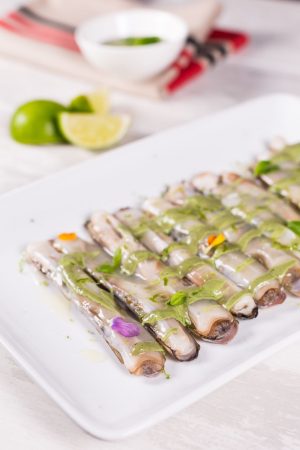 Thanks to the technique used in this recipe, a very delicate ingredient is prepared leaving it with a firm yet tender texture. It is also cooked in its own juices.