Ingredients:
One salmon loin of approximately 150 g, around 2.5 cm thick
Salt
Pepper
1 sprig of dill
25 g maple syrup
1 potato
1 small aubergine
½ a red pepper
50 ml white wine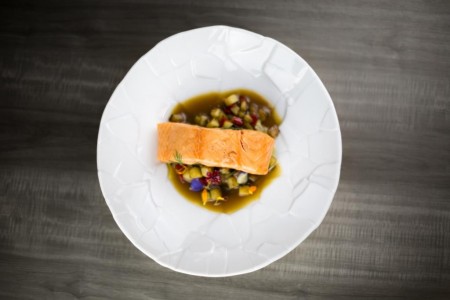 Instructions:
First, add salt and pepper to the salmon and put it into a vacuum bag together with the dill and the maple syrup. Then, seal it at 99% vacuum.
Next, insert the probe into the salmon and programme the SmartVide so that the inside of the salmon reaches 45ºC (113ºF). Put the bag with the probe into the SmartVide at 65ºC (149ºF) and wait until the inside reaches 45ºC (113ºF).
For the garnish use the Sammic manual chopper. Cut the aubergine, potato and pepper into small cubes and toss it with a drop of oil and the white wine.
When the SmartVide tells us that the salmon is ready, take it out and open the bag. This way, we can check whether the salmon is properly cooked. Keep the sauce left over from cooking the salmon until the end for dressing the plate.
For plating up, place the vegetables on the plate and the salmon on top, dress it and finish it off with a dash of extra virgin olive oil.
By using vacuum in this recipe we obtain two significant benefits. Firstly, thanks to the vacuum, marinating is much more effective and fast, not to mention the quantity of ingredients used for marinating. With this technique we use far fewer ingredients than we would in the traditional method of submerging the fish in the marinade. Secondly, the cooked fish remains juicy and cooked to perfection and, as long as the timing guidelines are followed, the result will be the same.