Ingredients:
Marinated king prawns
6 raw king prawns
25g dry white wine
10g soy sauce
5g fermented fish sauce
Juice of half a grapefruit
Juice of 1 lime
Lemon zest
1 bay leaf
Pickle:
1 mango
1 peach
1 cucumber
Radishes
1 red onion
50g cider vinegar
100g sugar
150g water
Preparation:
First, peel and chop the fruit and vegetables and add them to the previously boiled and cooled pickle. Leave to pickle for at least 24 hours.
Then, peel and salt the prawns and combine them with the marinade. Leave the mixture marinating for an hour.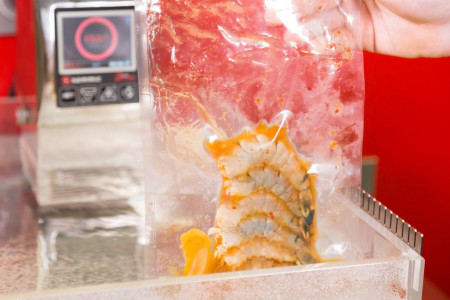 At the end of that time, cook the mixture in the SmartVide at 65 oC for 6 minutes. Then drain off the liquid and reserve the prawns.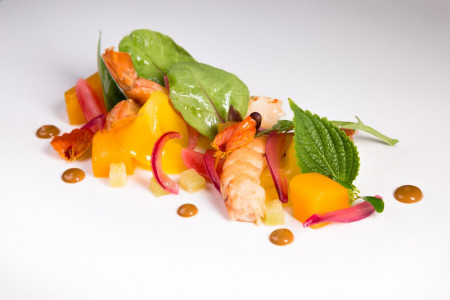 To serve, drain the pickles and arrange them on the plate with the king prawns and the leaves of baby lettuce, rocket, sorrel and shiso (Chinese basil).
In this recipe, thanks to the use of sous-vide, the marinating of the prawns is done more quickly and therefore we get more flavour from them. This technique also allows us to cook all the prawns perfectly and equally. In addition, if we use this technique for pickling, we accelerate the process, since the pickling penetrates the product more quickly thanks to the vacuum.