Ingredients:
4 quails
100 ml of sherry vinegar
100 ml of white wine
200 ml of olive oil
2 bay leaves
2 garlic cloves
1 carrot
1 tbsp white pepper
1 tbsp sweet paprika
2 cloves
Preparation:
To prepare this quail salad, we first truss the quails so that they maintain their shape. Then, season them and place them into the jars. Along with the quails, add all of the dry ingredients, except for the paprika and the pepper, to the jars. Separately, mix the oil, the wine and the vinegar with the paprika and the pepper. Pour the obtained mixture into the jar until everything is covered.
Once all of the ingredients have been added to the jars, cover them and put them into the SmartVide at 90ºC (194ºF) for 3 hours. As we can see, the vacuum is completed perfectly inside the jars.
To make the salad, apart from the cooked ingredients, add mixed lettuce, dried fruits and nuts, and honey vinaigrette. For the quails, in this case, we thought it would be a good idea to prepare a salad with one of the quails de-boned, and then to include the other one whole in order to show the result.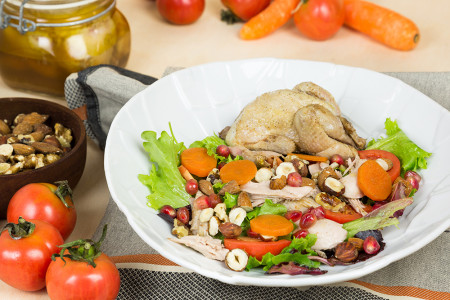 Benefits of using the sous-vide method for this recipe:
This recipe is still a preserve which combines traditional techniques with the SmartVide. But, in this recipe, the SmartVide allows you to make several preserves at once without them colliding with each other, which is what happens when making them in boiling water. Also, the fact that it doesn't reach a very high temperature means that the meat remains very soft and tender and that the aromas are not altered. It should be noted that the heat of the water gradually carries out the vacuum during cooking up to 100%.