In today's recipe, our chef Enrique Fleischmann has decided to use the pear as the main ingredient of the dish because it is a fruit that always reminds him of home and the pear trees all around his home. It is, practically, a fruit of Mediterranean origin, and here we are fortunate to enjoy it throughout the year; depending on the pear variety and level of maturity. This occurs because there are pear varieties that need the cold to mature and others that require warm weather.
In this case the use of vacuum ensures the fruit fully retain its shape and it is completely impregnated with all the flavours.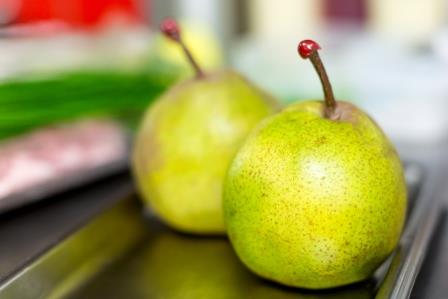 Ingredients:
1 pear
200 ml red wine
35 g sugar
1/4 r stick cinnamon
1 c.c resource (modified corn starch)
Preparation:
Place all the ingredients together except the resource in a vacuum bag 100% and bake at 72°C for 15 hours in the Sous-vide.
To present the dish, drain the pear and strain the wine. To finish, texturise the wine and serve.