Ingredients:
4 veal shin slices
1 onion
1 leek
2 carrots
Salt
Pepper
4 g paprika
Flour
200 ml red wine
60 g tomato purée
20 g parsley
2 garlic cloves
Grated zest from one lemon
Preparation:
Start by seasoning the shin slices with salt and pepper and then coating them in flour. Then sear them in a pan until they are golden brown. Once this is done, remove them from the pan and set aside.
Next add the garlic and the onion to the pan. Once they have started to sweat, add the leek and continue to sweat. Add the paprika, sauté it all a little and then add the tomato purée. Once all mixed together, add the wine and reduce until the alcohol is cooked out. When this is ready, let it chill and then put everything together in a vacuum bag. Cook the mixture in the SmartVide at 80 ºC for 20 hours.
To make the Gremolata, finely chop the garlic and the parsley and mix them with the grated lemon zest. Set aside.
When the 20 hours have passed, remove the bag from the SmartVide, drain it and blend the sauce. Cover the ossobuco shin in the sauce and sprinkle over the Gremolata.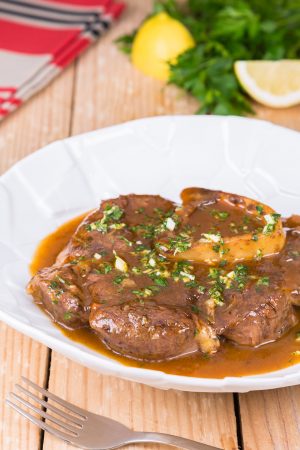 In this case, the sous-vide cooking gives the meat a softer texture and, what's more, it is pasteurised. Furthermore, it means that we can standardise the recipe and can avoid having to factor in cooking time.