Ingredients:
1 slab of pancetta, approximately 300 g
1 tbsp chilli powder
2 tbsp traditional mustard
1 tbsp oregano
1 tbsp pink pepper
1 sprig of rosemary
1 tbsp thyme
Salt
50 g lard
50 g sugar
30 ml maple syrup
For the garnish:
1 potato
5 shallots
Pepper
Thyme
20 g brown sugar
20 ml Sherry vinegar
Oil
Salt
Bay leaf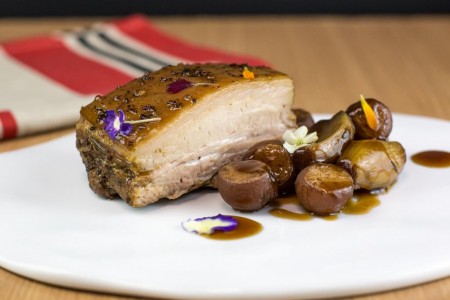 Instructions:
Place the pancetta into a tray and add all of the ingredients one by one. Massage the meat so that the pancetta becomes marinated. Then, seal it at 99% vacuum and cook it at 80 ºC for 10 hours.
For the garnish, peel the shallots and make potato balls using the ball former. Put them into an empty bag with the pepper, thyme, brown sugar, vinegar, oil, salt and bay leaf. Next, put it into the SmartVide and cook it at 70 ºC for 4 hours.
When the pancetta is cooked, take it out of the bag and place it onto a tray. Put it into the salamander and add the maple syrup and proceed to grill and reapply the liquid until the skin becomes slightly golden.
When the garnish is ready, open the bag and strain the sauce left over from cooking into a saucepan to reduce it.
Finally, place the pancetta and the vegetables on a plate together with the garnish and dress with the vinegar reduction.
By cooking the pancetta this way, we ensure that it always maintains its original shape and won't break, in addition to this it will be perfectly cooked. Vacuum must be taken into account as a precursor to marinating, since the meat will always be in contact with the marinade and cooked at the same time.