Ingredients:
2 apples
50 g butter
50 g sugar
20 g butter
Kataifi pastry, to taste
Icing sugar, to taste
Custard to finish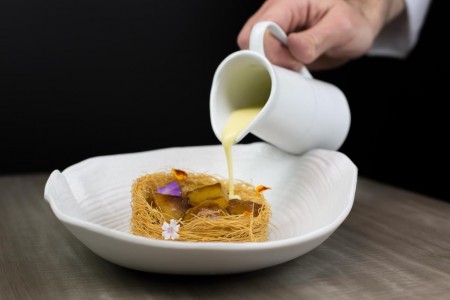 Instructions:
Peel and chop the apples into pieces which are similar in shape and size. Then, put them into a vacuum bag with 50 g of butter and the sugar and seal it at 99% vacuum. Now, cook it at 70ºC (158ºF) for 40 minutes.
Meanwhile, prepare the kataifi pastry. Firstly, take the kataifi pastry, dust it with a little icing sugar and place it into the metallic rings as shown in the video. Cook in the oven at 170ºC (338ºF) for 20 min.
When the apples have been cooking for 40 minutes, remove them from the bag and strain the juice from the bag.
Then, put the apples into a frying pan with the 20g of butter and brown the apples well. At this stage, add the apple juice that was left in the bag little by little, so that everything becomes golden.
To present the dish, first position the pastry and then place the apples inside. Finish up with a little custard, and that's it.
The apple will turn out delicious when cooked using this technique. What's more, by vacuuming and cooking them, we can have them ready inside the bag in the refrigerator and use the SmartVide when we need them.