Ingredients:
Approximately 600 g (1.3 lbs) duck breast
25 g (85 oz) Cointreau or orange liqueur
250 g (5 oz) orange juice
20 g (35 oz ) apple cider vinegar
50 g (75 oz) sugar
400 g (14 oz) duck fond
1 medium potato
1 orange
Salt
Pepper
Preparation:
To start, make diamond-shaped incisions into the duck breast skin and put it in the bag with the orange peel and Cointreau. Seal it at 100% and cook it in the SmartVide at 65ºC (150ºF ) for 50 minutes.
Next, put the sugar into a saucepan and caramelize it. Once it's toasted add the vinegar and orange juice. When it begins to boil, add the duck fond. Reduce until the sauce is thick.
Slice the potato and use a ravioli cutter to cut the slices into circles. Brown the potatoes in a pan and once they are cold, put them into the bag with a bit of the orange sauce. Cook everything in the SmartVide for 35 minutes at 80ºC (175ºF).
Peel the orange and set all the skin aside. Make petals out of the slices.
Once the breast is cooked through, brown the side with the skin in a frying pan.
To finish, cut the breast in half to check whether it is done, set it on a plate, and decorate it with the glazed potatoes, the orange petals, and the sauce.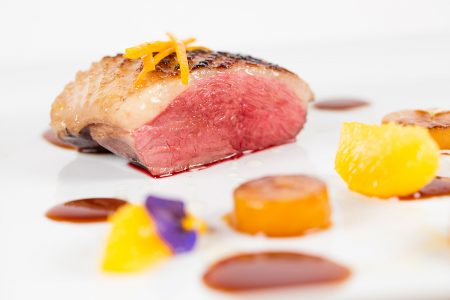 The use of sous-vide in this recipe guarantees the perfect doneness of a meat as delicate as duck breast. The garnishes can also be prepared in advance, stored by serving, and reheated while the breast is cooking, saving time and energy.