Turkey roll
Ingredients:
2 turkey thighs
Salt
30g five-spice powder
Preparation:
First, carefully bone the thighs making sure to remove all the hard tendons. Next, combine the salt and five-spice powder, and rub generously into the meat. Roll it with the aid of cling film, pack it and cook it in the SmartVide at 75ºC (167ºF) for 4 hours. Finally, cool it in the blast chiller.
Spiced turkey broth
Ingredients:
Turkey bones
2 carrots
2 spring onions
2 bay leaves
1 garlic clove
5 dried allspice berries
4 black peppercorns
2 sprigs Indonesian long pepper
4 cloves
Half a cinnamon stick
Half a dried guajillo chilli
30g ginger
2 sprigs coriander
20 ml fermented fish sauce
10ml soy sauce
Preparation:
First, roast the bones, carrots and spring onions in the oven at 220°C (428ºF) until they take on a darker colour. Take them out and leave to cool. Add the rest of the ingredients to the bag, together with the bones, the vegetables and a litre of water and cook in the SmartVide at 75ºC (167ºF) for 4 hours. After 4 hours, take out the mixture, strain it and add the fish sauce and soy sauce to the strained liquid. To finish, add a pinch of salt and put to one side.
Huevo a baja temperatura
Ingredients:
Cook the eggs at 70ºC (167ºF) for 24 minutes until the yolks have the texture of toffee.
Presentation:
Put cooked rice noodles on the bottom and on top add layers of turkey meat and the hot broth. Then add the egg and garnish to taste with spring onion, thinly sliced chilli, coriander and bean shoots.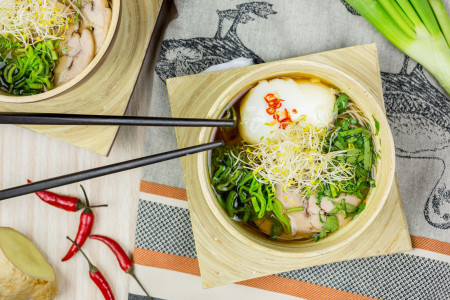 Thanks to the vacuum, this recipe results in perfectly cooked, juicy turkey and a transparent broth with all the aroma and flavour of the aromatics.