Ingredients:
600 g boneless chicken thighs
2 g salt
2 g white sugar
For the orly batter:
420 g soju (Korean alcoholic drink made from rice)
420 g potato flour
2 eggs
9 g raising agent (synthetic yeast)
5 g salt
For the coating:
Cornflour
Orly
Breadcrumbs
Preparation:
First wash the chicken thighs, coat them in the salt and sugar and place them into a sous-vide bag. Place the bag in the SmartVide and cook for 1 hour and 30 minutes at 80ºC.
In the meantime, make the orly batter. For this, put the soju alcohol, potato flour, eggs, raising agent and salt into a food blender. Blend it well until you get a homogenous orly batter.
When the thighs are cooked, take them out of the bag and cut them into nugget-sized chunks. Coat them in cornflour, orly batter and, lastly, breadcrumbs. Fry the chicken until golden.
To serve, we can decorate with sesame seeds and vegetables such as spring onion or red chilli. Sweet and sour sauce can also be served with this.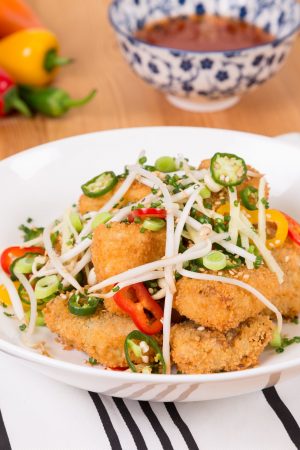 In this recipe, thanks to the sous-vide cooking, you can achieve very succulent fried chicken and, since it is already cooked, you won't have to fry it too much.