Ingredients:
A pork loin weighing approximately 1 kg
1 kg coarse salt
200 g sugar
130 g paprika
20 g dried oregano
To assemble:
Pitta breads
100 g rocket
150 g ripe tomatoes
120 g natural yoghurt
40 g cucumber
1 garlic clove
3 g dry dill
30g Dijon mustard
Preparation:
To cure the pork loin:
Start by placing the pork loin on a tray and covering it with the salt and sugar, which have already been mixed together. Rub well. Place the loin into a vacuum bag together with the salt and sugar mix and seal it at 99% vacuum. Leave it to cure for 24 hours in the storage chamber.
After 24 hours, remove the loin and wash it well to remove excess salt and sugar. Dry it thoroughly and cover it all over with the paprika and oregano. Place it into a bag again and seal it at 99% vacuum. Leave it to finish curing for ten days in the storage chamber.
Once the ten days are over, open the bag and place the loin on a rack on a tray for 24 hours to dry. This will remove the last of the humidity from the loin.
To assemble: We're going to stuff the pitta breads with this pork loin.
Into a bowl place the yoghurt, minced garlic, finely-chopped cucumber, dried dill and mustard. Mix well. Spread the mixture into the pitta breads. With a ham slicer, cut the cured loin into very thin slices and place them on top of the yoghurt sauce. Then slice the tomato and dress it with olive oil and salt.
To finish off, make the sandwiches and… tuck in!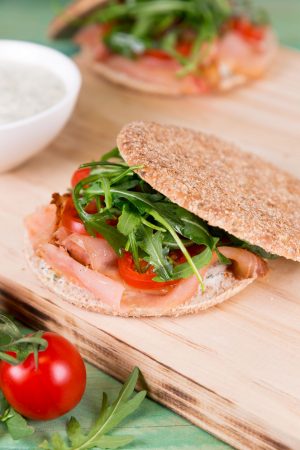 Thanks to the vacuum technique in this recipe, the curing time for the pork is reduced to almost half. Furthermore, because it is sealed there is no risk of bacteria reproduction and, therefore, of any potential spoiling of the product.