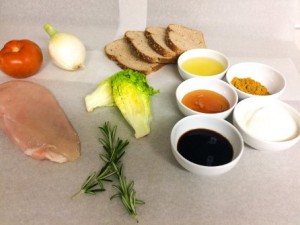 Ingredients for chicken breast ham:
1 chicken breast of 350gr.
50 gr. olive oil
50 gr. of honey
35 gr. of soya
Romero
Preparation: put all the ingredients in the vacuum bag and seal it with a vacuum of 99% and cook in the SmartVide for 50 min. at 72º.
Ingredientes para la salsa de curry:
100gr of natural yoghurt
1 teaspoonful of yellow curry
Breast cooking juice
Notes: The chicken breast can be finished on the grill or on the griddle plate to get more flavor.