The use of vacuum in this recipe results in a pasteurised product without problems. This is because this technique enables the temperature to be controlled throughout the entire cooking process without the possibility of any alteration, which means the product can be conserved for longer than if it is made in a traditional way.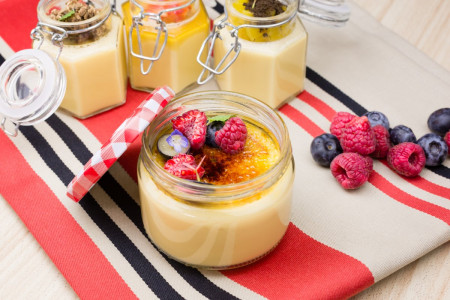 Ingredients
80 g egg yolk
45 g sugar
100 g whole milk
200 g of 35% mg cream
30 g almond praline
Preparation:
First, heat the praline with the cream and the milk. Next, beat the yolk with the sugar and add the cream milk and almond praline mixture, stirring constantly.
With the mixture obtained, fill the glass jars ensuring that there are no large bubbles inside. If there is, use a kitchen blowtorch. Once all the mixture has been placed in the glass jars, cover them and submerge them in the SmartVide at 80ºC (176ºF) for one hour.
After this time, remove the jars from the SmartVide and cool them quickly to cut the cooking. When they have cooled, use a kitchen blowtorch to create the characteristic toasted caramel layer on the Catalan crème brûlée. Strawberries with maple syrup, granola, red fruits, mint leaves, etc. could also be added.