Trout salad at 42ºc (107,6ºF) with pickled apple and mustard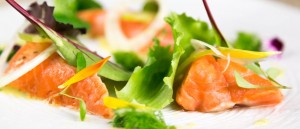 For the trout
100g trout
3 sprigs of pine
5 juniper berries
1L water
50g salt
Mid olive oil
Dissolve the salt in the water to obtain a 5% brine and reserve this in the chamber. Clean the trout, removing the skin and bones, and cut it into pieces, placing in a bag with the brine for 25 minutes. When this time has passed, remove the fish from the brine and dry with absorbent paper. Now put it in the bag with the sprigs of pine and juniper berries.  Cook in the SmartVide for 1 hour at 42ºC (107,6ºF).
For the apples
½ Granny Smith apple
50g apple vinegar
100g sugar
150g water
1 pinch of ascorbic acid
5 sprigs of dill
Heat the water to about 60ºC (140ºF) and dissolve the sugar in it. Then add the vinegar and some sprigs of dill. Set aside and keep cold.
Peel the apples and remove the pips. Cut them into thin slices, in the form of crescents, and pack them completely with the juice for pickling, a pinch of ascorbic acid and another sprig of dill.  In this way, by osmosis, the apples absorb the juice and are pickled immediately.
For the vinaigrette
80g creme fraîche
100g virgin olive oil
1 egg yolk
20g apple vinegar
6g Dijon mustard
Salt
Pepper
A drizzle of honey
Mix the egg yolks, crème fraîche, vinegar and mustard. Then add the olive oil a little at a time until emulsified and finally season with salt and pepper.
Salad
Mustard greens
Bulb of fennel
Petals
Coriander sprouts
Fennel sprouts
Clean the lettuce and immerse in cold water. Do the same with the mustard greens and the fennel sliced with a mandolin slicer.