Recipe for iced tea with lemon, prepared with sous-vide cooking technique.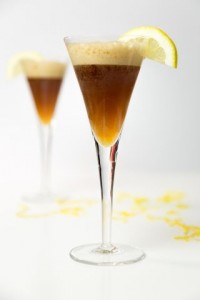 Ingredients for the sous-vide tea:
1 l of water
200 g sugar
20 g black tea
Zest of 1 lemon
Place all the ingredients in a 100% vacuum bag and heat in the thermocirculator for 10 minutes at 85ºC / 185ºF. Strain and cool.
Blend with ice in the blender, and garnish with half a slice of lemon.